Content : 7 gardens, 13 monuments, 16 museum, 3 SPECIAL ACTIVITIES, 12 walks, 3 SHOPS, 2 THEME PARCS, 23 free ACTIVITIES, LIST OF cheap ACCOMODATION AND HOTELS AT LESS THAN 100 PER NIGHT, LIST OF ROMANTIC HOTELS, 4 RESTAURANTS, 3 food to try, FULL GUIDE.
What to do in Paris ? Here is all the activities and fun things to visit. You can plan what to visit in a week in Paris easily and book tickets here. Guide of Paris by a French…written in English!
27 BEST THINGS TO DO IN PARIS (paid part)
Activities with paid tickets (free activities down below) classified by best rating order :
1. Musée d'Orsay (Approx 16€)
Masterpieces sculptures and Impressionists paintings by Renoir, Monet, Manet and others. This is considered one of the best galleries in Paris and contains masterpieces such as Dance at le Moulin de la Galette by Renoir, Apples and Oranges by Cézanne, Van Gogh's self-portraits, Burial at Ornans by Courbet.
A nice way to save around 15€ is to book Orsay + Orangerie visits in a bundle here -> bundle. For a 2min presentation of the museum video here. For a free 60min online guided tour of highlights video here. It is free under 26 if you have a EU resident ID. Closed on Monday's so very busy on Tuesday, Saturday, Sunday. You can also have lunch at the massive and magical restaurant after your visit -> picture here. How to go to museum d'Orsay ? Click here to open the map location and choose your favourite transport mode.
2. Sainte-Chapelle (Approx 11.50€)
One of the best place to visit in Paris with her stained glass representing 1 113 scenes from the Old testament and New testament. The Holy Chapel have strong bounds with sacred relics like the Crown of Thorns and the Image of Edessa that were kept there. The beautiful Gothic style chapel was build in just 7 years and used by the king. You can save 5€ by visiting in the same time The Conciergerie (Medieval royal palace, former prison of Marie Antoinette, guillotine execution centre). Book this bundle ticket here. Visit it on a sunny day to really get the glasses shining. How to go to Sainte-Chapelle ? Click here to open the map location and choose your favourite transport mode. Free 5min guided tour in video here.
3. Palais Garnier Opera (12€)
Visiting the Opera of Paris take approximately 90 minutes. It is a Baroque design jewel. You will have the chance to climb up the double stairway "Grand Escalier", admire his 7 ton chandelier and the Pythonisse sculptures, the ceiling paintings by Marc Chagall and most of all the biggest Opera Hall in Europe. We strongly advice to take to ticket with the guide, for only 5€ extra the experience and explanations are a must for the Opera. Pictures of the Opera here. 2min video presentation here. How to go to Palais Garnier ? Click here to open the map location and choose your favourite transport mode.
4. Museum Rodin (14€)
For the sculptures lovers. This museum aim to retrace to evolution of the famous Rodin sculptor, founder of the modern sculpture. You will have an access to the Hotel Biron that was a haven for artist's from 1904. Both inside and the gardens a a must see for anyone desire to dive in this art. The place is quiet and not overcrowded. How to go to Museum Rodin ? Click here to open the map location and choose your favourite transport mode. Documentary about Rodin's museum 2X20min video here.
5. Cathédrale Notre-Dame de Paris (free)
Notre-Dame construction started in 1163 and lasted more than 200 years. After the French revolution, when the cathedral was actually attacked, the architect Viollet-le-Duc did and extended restoration in 1845. it was the site of Napoleon coronation. Closed for now as to much lead concentration detected in May 2021 on the square. You can see it but no visit inside or even go near the walls. This is directly linked to the fire that broke and destroyed the entire lead and wood roof the 15 April 2019. See before the fire and after animation here. When will the cathedral Notre-Dame reopen? The target is set for 2024 to be ready for the Olympic games in Paris, when it should be possible to go up on the towers with a ticket. How to go to Notre-Dame Cathedral ? Click here to open the map location and choose your favourite transport mode. Free tour of the cathedral in a 10min video here. Our 15 best picture of Notre-Dame here.
6. Musée de l'Orangerie (12€)
Art gallery of impressionist and post-impressionist paintings. Popular among visitors for displaying the Eight Water Lilies murals by Claude Monet in a 360° amazing room, you can also see paintings of Paul Cézanne, Henri Matisse, Amedeo Modigliani, Pablo Picasso, Pierre-Auguste Renoir, Henri Rousseau, Alfred Sisley, Chaim Soutine, Maurice Utrillo. Do not forget that you can save around 15€ if you book this museum with Orsay as a bundle here. How to go to museum de l'Orangerie ? Click here to open the map location and choose your favourite transport mode. After, you can visit the beautiful Jardin des Tuileries, created by Catherine de Medici in 1564, as l'Orangerie museum is located inside the garden. Get an idea of the museum in a 3min video here.
7. Eiffel Tower (20€/39€)
There is plenty of options to visit the Eiffel Tower, our only "must do" is that you must book a skip the queue ticket with a third floor access (top floor). You absolutely need to book before, as when you arrive on site you might not be allowed to visit the top floor. Indeed if it is fully booked they will ask you to wait four hours before you can even buy the ticket for the top. The best choice is the English guided tour with till top floor at 45€, it is even cheaper that the entrance without guide, careful to click in "Tour in English to Submit" option after booking the date. It will display 45€ instead of 34€, tickets here. It is a good deal as some are around 60€…If you really do not want a guide you can still book this ticket for 55€. Also for the sporty people you can take the access to the 2nd floor from the stairs only here, but get ready for a 674 steps challenge! The 324 meter high tower was built in 1889 for the world Fair. It stayed tallest building of the world for 41 years. The Tower was call an eyesore by many Parisians when it was built. It was planned to be demolish it after 20 years. There is restaurants in the first and second level, the Jules Vernes is the most renowned, starting 190€ per person, 5 courses menu here. The top floor is highest observation deck in Europe. It is the most-visited paid monument in the world with 6.91 million in 2015. Best 20 pictures of Eiffel Tower and top view. Take 5min to watch this great explanation of how to tower works and how to visit it, video here. How to go to the Eiffel Tower ? Click here to open the map.
8. Basilique du Sacre-Coeur and Montmartre (16€)
There is many tours available but we advise the one at 16€ and take 2.5 hours. You will see the Sacré Coeur, Van Gogh's house, Moulin Rouge, Picasso's studio, the artist square, Café des Moulins, the last windmill and vineyard of Paris. You will pretty much know all about this romantic high grounds area in Paris, offering splendid views over the entire city. The entrance to the Sacré-Coeur is free but you have to pay 6€ to go above the domes. For the foodies there is an marvellous 3 hours tour with wine and cheese, charcuterie, chocolate, pastry, Tickets here. Now if you really want the french experience of Montmartre you need to book your evening at the Moulin Rouge show with champagne! Cheaper Tickets Moulin Rouge here at 89€. Careful of your belongings as some of the surrounding neighbourhoods are not that safe. More pictures of Montmartre and Sacred-Heart here. See what a 2 hours walk in Montmartre look like, video here. 5min version here. How to go to the Sacred-Heart and Montmartre ? Click here to open the location.
9. Cruise and diner on a riverboat "Bateau-Mouche" on La Seine
This is one of the best thing to do between lovers. Ideally by night for a romantic evening. The best cruise is this 2.5 hours evening 3-course diner à-la-carte so you can still decide what to eat. And the food is amazing just like the sceneries of Paris unfolding like paintings during your diner. At around 99€ (34€ children) the price is reasonable too for this food quality and boat design, not to mention the live music atmosphere, see tickets and menu here. If you are not free in the evening you can have a 2 hours lunch cruise, lunch cruise ticket here. If you want to save a bit you have this ticket less luxurious version at around 75€ but still an amazing experience. In case you want to visit Paris by Hop-on Hop-off sightseeing cruise you can access Le Louvre, The Eiffel tower, Notre Dame, St-Germain-des-Prés, Jardin des plantes, City Hall, Bridge Alexandre III with this ticket here. You also have some 1 hours cruise but really if you came to Paris you have to enjoy the diner cruise experience. Here is a 2min video that will give you an idea of this diner cruise evening…
10. Arc de Triomphe (13€)
One of the top rated activities to do in Paris. And quite quick to do. Many people book it as after you can go and have a walk on the Champs-Élysées. At around 13€ you can visit all the monument ordered by Napoleon after his victory at Austerlitz and even climb on the roof to get a 360° view of Paris. Careful as there is 284 stairs to climb till the top. You will also see the tomb of the Unknown Soldier and the eternal flame that was never switched off since 1923. Free for under 18 and under 25 for EU residents. The price is cheap at 13€ per ticket. How to go to the Arc De Triomphe? Click here to open the location. 1min visit of the monument here. 11 nice pictures here.
11. Museum Le Louvre (20€)
Le Louvre is one of the best museum in the world. See the masterpiece like Mona Lisa and the Venus de Milo among art from the Renaissance, Ancient Egypt, and painting ranging from the 13th to 20th centuries. Free under 18. Free for under 26 with EU residence ID. For the cheaper ticket at 20€ we advise you to choose the time at 10AM to have enough time to visit. The museum is massive and it might be difficult to see all even in a day! To understand and enjoy Le Louvre much better, it is advisable to take a guided tour. The best rated 2 hours guided tour is at 65€ and tickets are available here. How to visit Le Louvre with children? The best but expensive way is to book this family private tour tickets with a guide that will focus on what children want to see and keep them entertained with a selective visit for 2 hours. How to go to Le Louvre Museum? Click here to open the location. Best pictures of Le Louvre. Visit the best of Le Louvre museum in a 2 minutes video here.
12. Musée des Arts Forains "Gypsy arts" (12.80€)
An out of the box fun visit and very different from the others. You will discover the gypsy fairs arts during the last century : 14 old carousels, 16 gypsy unique shops, 18 historical pieces, 1522 art pieces, the 1920's "Magic Mirror" mobile bar. Nice part of the visit is you and your children can actually try and play with many of the museum attractions. What to expect 1min video here. How to go to this Fairground Art Museum? Click here to open the location.
13. Marmottan Monet Museum (95€)
One of the top rated activity to do in Paris. The best way to understand and learn from this visit is to book a small group guided tour here. You will learn and discover Masterpieces from Renoir, Monet, Morisot, Gauguin, Corot and Manet. You can still buy a cheaper ticket on site but not guided. You will see "Impression Sunrise" that gave its name to the Impressionist movement. How to go to Marmottan Monet Musée? Click here to open the location. 5min video of the museum pieces of art here.
15. Music Museum of Paris (9€)
Quoted by visitors to be the best music museum in the world. If you love the subject or is a musician this is a must do. It has a full collection of all western musical instruments in chronological order set on 5 floors, and you can listen audio segments of them. And this time you can get a free audio guide that will make the visit fascinating. There is 1000 instruments and works to see and a concert every day. Watch a 2min video of the museum here. How to go to Musée de la Musique of Paris? Click here to open the location. You can see the permanent collection for 9€ but there is also always a temporary exhibition, just ask at the door. You can enter and save a lot of money during your visit of Paris if you book with the Paris Museum Pass here under.
16. Museum Arts et Métiers (Arts and trades)
Founded in 1794 by Henri Grégoire, the Conservatoire National des Arts et Métiers exhibits more than 2400 inventions. Inside a middle-age monastery, you will discover all subjects like, scientific instruments, materials, energy, mechanics, construction, communication and transport. You will also see the real Foucault Pendulum that was used by Léon Foucault to demonstrate to other physicians the rotation of the heart! Definitely one of the museums to visit with children. This visit will entertain all your family and keep everyone interested with the audio guide available in English. 5min french tour of the museum video here (use subtitles of youtube auto translate). How to go to Musée des Arts et Métiers? Click here to open the location.
17. Musée de l'Armée des invalides (Army Museum)
Our opinion is you have to visit this place, so much about war history of Europe in one single place. In top five of the most visited place in France, many tourist said it was the best army museum in the world with 500,000 pieces from Middle Ages to present day. The pinnacle of this visit will allow you to visit the tomb of the Emperor Napoleon that had so much impact on everything even nowadays. You have to watch this 50min documentary about his life before going there. See a 2min video tour of what to see in this museum. See an example of the show here. How to go to The Army Museum? Click here to open the location.
18. L'Atelier des Lumières "Lights Workshop Arts Museum" (16€)
It is a visual art museum. It is totally different than visiting an art gallery and very impressive. It is great to visit with children and make them discover the arts masters while having fun. Ideally visit it in the morning. The good news is the show change often so you won't see the same year after year. You can see what's available now directly on this website. In a 17th century foundry you will be surrounded by a 360° show spread all over the walls during an approx 30min show that repeat itself. You can see it more than once as the show look different depending on were you are in the museum. Example of a magical show 3min video here. How to go to L'Atelier des Lumières? Click here to open the location.
20. Quai Branly Jacques Chirac Museum (12€)
This is a bit different than the other museum of Paris. As it is sometimes also called museum of Arts and Civilisation of Africa, Asia, Oceania and America. It is basically a non European Arts Museum. Despite the fact that this as nothing to do with France it is one of the most visited in the world on those subjects. You can even visit its garden without ticket. The gardens really worth it after the museum as it is a relaxing thing to do and look like a forest inside central Paris! Free very first Sunday of the month. Free under 26 years old EU residents for the permanent and temporary exhibition. You can also save by booking the Paris Museum Pass under. There is a fairly high quality restaurant at the top with a direct view on the Eiffel Tower. There is a controversy about this Museum as this is not french heritage and some would like the collection give back to original countries, many objects might have been taken by force or in a non ethical way. 7min overall tour in video here. How to go to Quai Branly Museum? Click here to open the location.
21. Musée de Montmartre (13€)
Not to miss absolutely if you visit France! The most charming museum of Paris. An authentic travel in the past Parisian life. Not everyone knows about this museum and that makes it peaceful. This is a house and gardens to visit + a lot of masterpiece paintings. But not any house, as the n°12 Cortot Street was rented by Renoir himself a part of it in 1876 to paint. Many other famous artists also used it to paint. You will also learn about this very cute neighbourhood of Paris. It is unique to visit a house with a garden in Paris as it is practically nonexistent. See a 1min video tour here. Do this activity in the morning and book a table to eat at the nearby "Le Moulin de la Galette" restaurant after to complete this old Parisian life experience (video here). How to go to Musée de Montmartre? Click here to open the location.
22. Museum Jacquemart-André (17€)
This museum itself is a marvellous building to visit, actually one of the main interest beside the paintings and sculptures. The place was actually the house of Edouard André and Nélie Jacquemart and was turned into a museum to show their private art collection. A nice thing to do for French Architecture lovers. For others you might be ok to skip it during your trip in Paris. As it is bit more difficult to visit as they advise to book a ticket online from their own website plus create an account with them to book the exact time you will be visiting. Or maybe you can just try on site when you pass by :). There is five major sections in the museum described here and the collection display more than 30 artists. Click here to see a 2min video tour took by a visitor. How to go to Jacquemart-Museum? Click here to open the location.
23. Panthéon (11.50€)
The Pantheon is one of the top rated activity even by French and Parisian visitors with more than 33 000 google votes. Secular Temple where most famous French in history are buried. The location was chosen by not less than the famous first Christian King Clovis in the 6th Century for the propose of a church. Then it got rebuilt an modified during the 18th Century. It now houses the grave the titans of French history like Victor Hugo, Voltaire, Jean-Jacques Rousseau, Pierre and Marie Curie, Alexandre Dumas, Jean Jaurès, Emile Zola. Only 79 souls had the privilege to be buried in the Pantheon. There is still 250 spaces for tombs, so you can still try your luck to be a national hero for France and get a space :). You will see there the famous Foucault pendulum like in the Art and Trade Museum above. See a 5 minutes guided tour in video with English subtitles(click on the subtitle logo to activate them). How to go to the Panthéon? Click here to open the location.
20. Grévin Museum (25€)
The Musée Grévin is something totally different form the above. It is a celebrity wax museum! It is the Paris version of the London Madame Tussauds Museum (She was actually French too 🙂 ). It exist since 1882 and have an antenna at Montreal and Seoul. The museum have 450 famous (200 exposed) characters and world stars like if they were in the room with you. The art work is unbelievably precise. You will see Jules Verne, Abert Einstein, Gandhi, Pablo Picasso, Michael Jackson, Josephine Baker, Pope John Paul II, Jeanne d'Arc, Leonardo da Vinci, Jules Cesar, Marie Antoinette, Molière, Napoleon, Wolfgang Amadeus Mozart but also more modern starts like Zinedine Zidane, Jean Reno, Monica Bellucci, Al Pacino, Angelina Jolie, Barack Obama, Bruce Willis, Céline Dion, Christian Dior, Edith Piaf, Elton John, Emmanuel Macron, George Clooney, Gerard Depardieu, Jackie Chan, Katy Perry, Kylian Mbappé, Leonardo DiCaprio, Lionel Messi, Louis Armstrong, Madonna, Meryl Streep, Mick Jagger, Nelson Mandela, Nicolas Cage, Penelope Cruz, Ryan Gosling, Scarlette Johansson, Vladimir Poutine, Zlatan Ibrahimovic, Christiano Ronaldo and many other including French celebrities that you might not know…And again the building is beautiful to visit too. Watch a 9min video tour here.How to go to Grévin wax Museum? Click here to open the location.
24. Palace of Versailles (20€)
The "Château de Versailles" is the top place to visit near Paris. The guided tour 53€ ticket is a must here but if you want to save you can buy the audio guided tour for 20€ here. Again you would have saved yourself hundreds of euro/dollars on your Paris trip if you booked the 6 days Museum Paris Pass here. You need to spend a full day to visit this jewel of French History. You will see the massive marble courtyard, the "Galerie des Glaces" or Hall of Mirrors, visit the apartments of the Kings Louis XIV, Louis XV and the famous Louis XVI that was executed by guillotine after the French Revolution. You will see the Salon d'Hercule with the biggest painted roof in Europe, the bedroom of Marie Antoinette from where she escaped. You will visit the magnificent Galerie des Batailles and the unique Gardens of Versailles with 380 pieces of arts. To enjoy the gardens we recommend going during the water fountains show (video here) to fully get the atmosphere of Versailles; the show is displayed throughout the day from the 22 May till 31 October except on Mondays. Don't forget to visit the garden till the end with the more secluded residence of the king Grand Trianon and the Hameau de la Reine as it is very cut and different, it is a village from Normand style inspiration created by Marie Antoinette to forget about her Queen Status and return to simplicity. If you want an idea of what you will see in Versailles here is the most beautiful video about it (6min). See here 20 pictures of Versailles Castle and gardens. How to arrive to the Palace of Versailles? By train you leave from Paris Saint-Lazare Station, take the Line L, after 40 minutes you will be at the station Versailles Rive Droite, from there you have a 10 minutes walk to arrive at the Castle of Versailles. By car just click on this link and follow instructions. Entrance is free for all visitors under 18, and less than 26 if EU residents. Also the entrance is free for all the first Sunday of every months between November and March but it would be extremely busy. Bring your food with you for the day as it is big and there isn't much choice for food to buy there. Most importantly remember that this site is huge and visiting it will be like going for a hike! So take good shoes and be ready to walk 15 to 25 kilometres minimum during the day. Be prepared…
25. Provins Medieval Castle and village outside Paris
Totally different from Paris, it is a cute medieval village to discover, classified at Unesco World Heritage. It's a small village and you can visit it by foot to admire monuments and old houses, alleys, water streams around the village . It is like a day in a countryside city of France, this is all the interest of coming here. You will get an idea of a town outside Paris without the urban feeling and all the monuments with tourists everywhere. Here it is quiet. Amazing Medieval Church and Castle….The Church to visit is very impressive and named "Collégiale St Quiriace" (church location). At 1min walk form the church min you will find the Castle tower named "Tour César" (Tower location) dating from the XII century. It is the only octagonal dungeon built on a square base. The tower was taken over by the English during the Hundred years' War (1337-1453), the longest military conflict in European history. The entrance to the tower cost around 4.30€ and take about 30min. You will be able to climb till the belfry trough a narrow staircase and see the 13 tons bells and their wood supporting structure. 800 meter from the tower you can go to see the city fortifications for a little walk (location here). Also nice to visit is the "Grange aux dîmes" (location here), it is a museum about the lifestyle and trades of the medieval age, really interesting small museum in a beautiful building, audio guided visit here is a must (price around 4€). The most important when you go to Provins is when do you plan your trip in Paris, as their is a falcon show by horse and a medial reenactment show (video here). Those show are usually only available between the 28th March and 1st November and monuments open from 10am instead of 11am within those dates. Anyway it would be the best weather for this outdoor day visit of the city of Provins anyway. The city underground can also be visited if you have the day pass or for around 4€ in a 45min guided tour. If you have spare time you can visit the Prieuré Saint-Ayoul monastery for around 4€ (close in winter). On your way out you can also see a tower named Notre-Dame-du-Val (Location here). Watch a one day visit at Provins in a 2min video here. How to go to Provins? The trip take around 85min with the train and cost approx 11€ per trip. You will need to go to Gare de L'Est station and take the line P till the end direction Provins, easy. We would advise taking the train around 8.30am max, to arrive at 10am and have time to visit all, specially as there is only a train every hour. If possible go there week days to avoid the French visitors crowds. As this medieval village is also popular with French people.
26. Disneyland Paris Park (56€)
Inaugurated as Euro Disney this Park is similar to Disney world and Disney Tokyo or Walt Disney World FL. A second Parc was added and is called Walt Disney Studios. You can also enter it. Visit it in June or September is good as you will get less people and do more attractions with a chance of nice weather. Queuing is an issue here you often have to wait 30 minutes for each attraction. For the waiting time they use to have "fast pass" but now they introduce "premier access" from the Disneyland Paris app. You pay 8€ to 15€ to skip the line and enjoy the ride faster than others. Often it does not worth it as you still have to wait around 5 minutes in a 10 to 15 minutes queue anyway. Their is also the "stand by pass" that will tell you where to go when there is few queue, free and really interesting to save time (guide here). A very simple way of having a nice day is the always do an attractions if you see that there is less than 15 minutes waiting time when passing by. There is many nice restaurants and fast food stands to take a bite or have a full meal. A lot of people have their sandwich with them to eat while you wait in queues. If you don't want to do that you can still hit a restaurant around 11.30am before the rush our, you will save a lot of time. The park open at 9.30am. And you should be there at the opening not to waist time on this wonderful day. The parade is a must to see if you like the Disney characters and start every day at 5.30PM on front of the Castle. If you don't want to run after time it might be an excellent idea to take a 2-3 days ticket to really have time to go to every theme in the park and have time to try the restaurants in a proper lunch break. See our full guide for Disneyland Paris for plans, hotels, more tips. How to arrive to Disneyland from Paris? Take the Line "RER A" till the last stop Marne-la-Vallée Chessy. It will cost around 7.60€ per trip and take 40 minutes. Buy a ticket, guide here. Our 52 attractions and roller coasters guide here.
27. Parc Astérix (55€)
This theme park is focus on the very famous Astérix french comic books. Open from mid-April to end of October, so better to check our link below before planning your trip to Paris. Parc Astérix also open around the 15th December for Christmas season and close on the 1st January. We recommend booking a refundable ticket in advance to save time and be sure you get your entry, as tickets can be limited. Link to book ticket here. If you book more than a week before you arrive you will gain access to those cheaper ticket at 47€ here. This park offer mainly roller coasters for families and adults, so mesure you children at the entrance to get the arm band that will allow them in all the rides of their height group. To save time you can download the app in the Google Play store or Apple Store to see the live waiting time in all the activities. This will help you go to the fastest queues all day. Video of the top 10 roller coasters in Parc Astérix.
TOP 23 free ACTIVITIES and visits TO DO IN PARIS :
Classified by best rating order followed by extra advice on flights and hotels.
1. Petit Palais Museum
This museum built the the 1900 World Exhibition like the Eiffel Tower boast an marvellous architecture, this itself worth to visit it. But even more interesting during your visit you will see the masterpiece of the top painters like Monet, Rembrant, Degas, Delacroix, Courbet, Fouquet, Cézanne and many others sculptures and paintings. All this permanent exhibition is free! This is just unbelievable… But the museum also always have a part of temporary exhibition that change frequently, there always something new to see, this time with paid tickets. Good news if you don't want to travel to Paris or if you want to just have an idea before going, there this virtual visit website where you can see it for free just clinking with your mouse. But it is in French, strangely even the museum is only in French. You can download the app the guide you for your visit here Apple / Android. Some pictures of the museum here. Amazing 3min video tour here. How to go to Petit Palais Museum? Click here to open the map.
2. Pont Alexandre III Bridge
This is 5 minute walk from Le petit Palais. Art nouveau bridge, famous for his ornaments made of lights and nymphs, complete by four big pillars and golden pegasus statues. Is name come from the Tsar Alexander III that made an alliance with France in 1982. Watch the 4 min french video tour of the bridge here. How to go to the bridge Pont Alexandre III? Click here to open the location.
3. Jardin du Luxembourg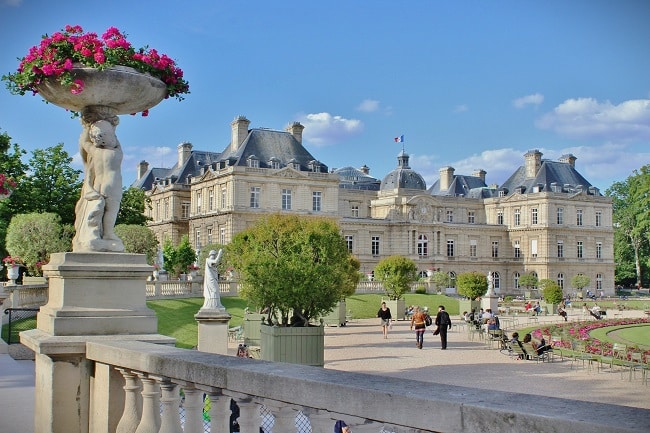 In a very nice neighbourhood of Paris near Saint-Germain-des Près, Luxembourg garden was created on the order of Marie de Médicis in 1612. It is big with 25 000 sqm. Their is on part in french style garden and one part in English style garden, between them stand a huge water pond. There is around 106 statues in the park and the not to miss "Fontaine Médicis" here. This garden will show you the real life of parisians, with many playing areas for children…and adults! Playing chess, tennis, bridge, remote controlled boats…people having a pick-nick or just relaxing reading a book…lovers. There is usually a photography exhibition alongside the fences that change regularly. See a 5min video of what you will find in this garden here. How to go to the garden Jardin du Luxembourg? Click here to open the location. French plan in pdf here.
4. Latin Quarter near Notre-Dame and Île Saint-Louis
At only 10 min walk from Jardin du Luxembourg, you can enjoy and visit this area for free. You just have to cross the bridge to see Notre Dame. The latin quarter is the oldest one in Paris, when it was still very small. Particularly good in the evening, it is known by French people to be safer than the rest of Paris for a night out. If you want to eat there go to Rue de la Huchette street to find plenty of restaurants and bars. Saint Séverin Church (that was destroyed by the Vikings during the IX century) is a must to see for the lovers of Gothic style. Île Saint-Louis island is more to go to dine in total quiet as it is less visited and very cute. To eat there we advise Aux Anysetiers Du Roy for a medieval experience that goes with this very old part of Paris.
5. La Samaritaine Mall
Unique and Iconic mall in Paris built in 1910, La Samaritaine reopened in 2021 after a marvellous 16 years restoration by the luxury-goods maker LVMH. No cheap shopping here but top brands like Louis Vuitton, Louboutin, Gucci, Virgil Abloh, Balmain, Alexander McQueen, Moncler, Stone Island. Only the most luxurious brands are present in this beautiful place. The staircase is covered of 16 000 gold leaves. Even the 5th floor take away food and restaurants are posh. The name itself come from the Bible and the well meeting of Jesus and a women from the city of Samarie. The group even opened a Dior Cheval Blanc luxury Hotel with direct views on the La Seine river, link here. Take a 4min video tour of La Samaritaine here. How to go at Samaritaine mall ? Click here to open the location.
6. Le Marais Neighborhood and Place des Vosges
Close from the Latin Quarter above and known by parisians to be the gay friendly zone of Paris. His name come from swamps in french as it used to be a swampy area. In the jewish quarter, Rue des Rosiers is a street that will give you a taste of the parisian life with all kind of shops and eateries. Don't miss Place des Vosges surrounded by some of the most beautiful buildings of Paris where royals and artists resided (You can enter into some of their gardens for free). With a beautiful fontaine, it's a nice place to stop if you took something take away. This video is well made and will give you some other tips. This visit will depend on you, how you go around and blend with the atmosphere there, you will never have the same experience twice!
7. Montmartre walk near le Sacre-Coeur
A painters heaven and the highest place in the city, this is a must do. It was once the home of Monet, Renoir, Degas, Picasso and Van Gogh. At the top you can visit the Basilica of the Sacred Heart. If you like "cabaret" there is the very famous Moulin Rouge in the lower side of the Montmartre to see the crazy horse show, but you can also see the iconic facade of the building. There are very nice guided tours for just 9€ at Montmartre but if you want to save on this you can do it alone and read the history of the area here. It is not as nice as in person with a guide as you won't get the history of every place. If you just want to wander around without the details it is totally fine as it is a nice experience too. If you want a small guided tour of what is a day in Montmartre watch this 7 min video. How to go to the top of Montmartre ? Click here to open the location. The beautiful street in our picture is at this location and leading to the Sacré-Coeur. In addition you can see the Church Saint-Pierre de Montmartre here for free. Less famous but the second oldest church in Paris. It was built one thousand years ago,
8. Walk on Les Champs-Élysées
A must see, if you love shopping and fashion you need to go there for a walk. Having french brands like Longchamp, Lacoste, Petit Bateau but also Guerlain, Louis Vuitton, Tiffany & Co, Cartier, Mauboussin. But also many other more affordable brands like Zara, Nike, and French food shops like Ladurée and their famous macarons. Most shops only open around 10AM. It is a 2 kilometer large avenue between Place de la Concorde and the Arc de Triomphe that you can visit with tickets here, before you walk down the avenue. If you go there on the 14th July you will have the chance to see the french national army parade show on this Avenue for free. Celebrating the French revolution. Some of the top restaurants in Paris are around this area too. How to go to Les Champs-Élysées ? Click here to open the location.
9. Park des Buttes-Chaumont walk and picnic
With 25 000 thousand square meters it is one of the biggest garden of Paris, and his style is like no other. Ordered by Napoleon III, dating back from 1867 and made by some of the most brilliant minds of Paris at the time, to hide a very ugly past…It was a dirty hill used to hang people and display the rotting bodies of some for years on the Gibbet of Montfaucon. In the meantime it was used for several dirty activities like landfill, gypsum mine, to store dead animals (15000 per year) till remains are used. Their was so much blood on the floor that it created a natural worm factory used by fishermans. Also used to store thousands of cubic meters of human feces for the adjacent poudrette factory. With all these nice activities the smell was unbearable kilometers around. The area was made a part of Paris around 1860, paving the way for an astonishing transformation in just 3 years. But 200 000 cubic meters of fertile soil was brought in to allow this…At the entrance you will see the cute townhall of the 19th district of Paris. In the garden, you can go at the top from the bridge, the belvedere is one of the highest natural place of Paris. There is a nice restaurant but you can also buy a sandwich nearby and have a picnic there like so many Parisians do. For children there is a playground, waterfalls and streams around the lac for all the family to enjoy a nice walk. Fun fact, the rock used for the base of the Statue Of Liberty in New York come from there. Watch a 6 min video tour here. How to go to Les Buttes Chaumont ? Click here to open the location.
10. Saint-Germain-des-Prés neighborhood walk
A paradise for arts lovers. We are going to give you the walk in the right order. You just have to click on the link to get the location and explanations to decide what to visit. Start by Le Pont Neuf Bridge, then Place Dauphine, Grand Augustins Quay, Rue Saint André des Arts for the pubs and shops, Rue de Buci for the food, Market of Saint-Germain for delicacies and shopping, Saint-Sulpice Church second biggest after Notre-Dame, Place Saint-Germain-des-Prés for her historical breweries and coffees, The Museum Eugène Delacroix is there but not free, Rue de Seine for all the arts galleries, National School of Fine Arts, Rue des Beaux Arts for the arts galleries, then look at the Institut de France, Here is the Monnaie de Paris Museum if you have time to visit. Walk on the iconic Pont des Arts to finish this tour. To leave, you can use this riverboat bus service for a romantic feel.
11. Eiffel Tower for free and walk on Champ de Mars
Visit the Eiffel Tower site without paying a ticket. Yes you can! Since the terrorists attacks of Paris the entire area was revamped and closed off on a large perimeter. But here is the catch, you don't need to pay to go in. Just pass the security checks here and you still get an nice walk around the Eiffel Tower and her small lake including many cool memories and pictures to take. Then you can visit the Trocadéro or walk on the Champ de Mars, one is located north of the Eiffel Tower, one south. In our opinion Champ de Mars are much cuter than Trocadéro, even the streets around it are class and offer nice tea shops, restaurants, bakeries and bars. Specially on the left side near these streets. Trocadéro have a nice fountain and overlook the Eiffel Tower from a higher point of view. Many people go there to take a selfie with the Eiffel Tower, but you can do just the same in Champ de Mars with a much greener background. A lot of French go there for a picnic too!
12. Parc Montsouris
Very well rated and nice for Parisian as a week end outing. It is one of the few parks in the south of Paris. There are playgrounds and a muppet show for kids, a lake, pony rides and nice walk. But we do not advise it if yourself already goes to a park in your hometown. Specially as there is a tube railway cutting the park in two and creating a bit of city noise…not so glamorous…It still made our list as an out of the box activity for free in Paris. Here is a 4min video that give a idea of the park. How to go to Parc Montsouris? Click here to open the location.
13. Church Saint-Etienne-du-Mont de Paris
The most beautiful church of Paris. Built at the end of the XVe century. Very famous for it is Renaissance style stone made rood screen (Jubé) as it is the only one in Paris, ther is only 10 in all France. You will also see a sculpted organ, stained glasses, paintings. Open from 4pm. Free Entrance and mass. See a 5min video in French here (use subtitles auto translated). How to go to Saint-Etienne-du-Mont Church? Click here to open the location.
14. Jardin des Tuileries
The Tuileries garden is a space to entertain in the fair trade part (Alongside rue de Rivoli) and relax in the gardens part (All the rest). This makes it ideal for families but everybody else too. Very close from La Samaritaine and the shopping area of Chatelet, crossing it will lead you directly to Le Louvre Museum. The fair trade offer the big wheel of Paris (15€!) and many carrousels and attractions for around 5€. But the real parisians experience is just to have a walk in these nice gardens, and maybe a meal in one of the kiosks. We advise the Pavillon if you want to eat in a nice atmosphere. Watch a 12 min video walk in this garden to visit in Paris. How to go to Saint-Etienne-du-Mont Church? Click here to open the location.
15. Saint-Eustache Church
One of our favorite as it really comes as a surprise. The tainted glasses are unbelievable and the organ the biggest of the country with 8000 pipes. This beauty is directly inspired by Notre Dame. In the middle of the "Ghetto atmosphere" of Châtelet-Les-Halles due to some groups loitering. This church brings back what was wonderful about the old France. Built in 1532 and dedicated to Eustache de Macon, born Placidus, converted to christianity later on. We found an amazing video of this church with the organ playing and could not resist sharing it with you here as a video (Headphones mandatory?).
16. Canal St Martin walk or tour
Once you leave from Saint-Eustache Church you can have a 25 min walk to the Passerelle des Douanes. This is the beginning of the canal as the rest is underground. This part is the cutest and feature a lock right under the metal bridge. This will allow you to see how works a maritime lock on this canal inaugurated in 1825. Very good to show to children of you have the luck to arrive when a boat is crossing. You can then have a walk and follow the canal for how far you want as it is 4,5km long. Many tourists book a 2.5 hours full tour of this canal and then accessing La Seine main river by boat, leading to a view on the most iconic monument of the city from the river. But this is only available between March and November. The historical explanations are a big plus. Plus passing through these old tunnels and locks is amazing for such a cheap price. Book tickets at 22€ here. How to go to Canal Saint Martin for a walk? Click here to open the location. 10 min video tour here.
17. Parc Monceau walk
Inaugurated in 1779, this the park to visit in Paris. There is an exceptional feeling in this garden. The monuments, the sculptures, the bridge, the flowers, the lake, the carousel, the playground, the threes, Everything is blending to perfection to make the perfect walk be it with children or alone. There is even a kiosk to buy food. Here is a 2 min video tour of the parc. How to go to Canal Saint Martin for a walk? Click here to open the location.
18. Père-Lachaise Cemetery visit
Situated on one of the seven hills of Paris and featuring some 70 000 tombs, it is the most visited cemetery in the world. Also the biggest garden of paris with 44000sqm and 280 kilometers of paths. Père-Lachaise is quoted by many French as an open Museum, the pinnacle of Funerary art in Paris. There are famous people buried there, like : Honoré de Balzac, Alphonse Daudet, Marcel Proust, Oscar Wilde, Beaumarchais, Edith Piaf, Jim Morrison, Allan Kardec, Molière, Jean de La Fontaine, Frédéric Chopin, Georges Bizet, Guillaume Apollinaire, Victor Noir, Parmentier, Rossini. There is a crematorium on site. Napoleon made a decree that anyone can be buried whatever is race or religion in 1804, so there is a jewish quarter, muslim, christian. Many monuments are erected to remember big events of the last centuries. The entrance is free, but if you can afford it, this is the place to take a guided tour, as you won't understand a lot without a proper guide. We found the cheapest tickets at 22€ here for a 2-3 hours tour. One minute video tour of the cemetery here. How to go to Père Lachaise Cemetery for a walk? Click here to open the location and see all tombs location in green. The cemetery is open from 8AM till 6PM.
19. Saint-Sulpice Church
Famous because of The Da Vinci Code movie, it is the biggest church of Paris. Built respecting the classicism style in 1631, the right tower was never finished because of the French Revolution. During your visit you will see the statues and the 180 years old world famous organ with an amazing sound quality built buy Cavaillé-Coll. Watch here our favorite video showing a french master of improvisation live right before the mass. If that was not enough you also can admire the astronomical tool Gnomon, and paintings of the genius Eugène Delacroix. Walk around 6min video here. Open from 8AM to 8PM. How to go visit Saint-Sulpice Church? Click here to open the location.
20. Hôtel de Ville Paris City Hall
Originally built in 1535 but burnt later on by the communards, it is one of the most beautiful city hall in the world with his 107 statues of important parisians figures of the past. In the old time the large square was used to render justice in the form of quartering people with 4 horses on each corner, burning or just hanging criminals was the common way. Paris was controlled by a rich merchants conglomerate using the area as the main freeport of Paris. You can visit it for free during "Les journées du patrimoine" event usually held mid-september. But even walking around this building is a good moment, as his architecture is impressive even for a French :). Once you finished to admire it you can just head for Notre-Dame Cathedral just 500m from it (Itinerary here). Video from outside and from inside. Click here to open the location.
21. Galerie Lafayette Historic Mall, his Dome and le Printemps
The best place to do shopping in Paris, unlike La Samaritaine above, you can actually afford many things here. The prices are good, making Galerie Lafayette a shopping place even for locals since 1912. It spread across different buildings and streets, one of the architectural highlight is the Dome in Art Déco style. You can go to shop in the morning and like us eat at the Rooftop here. You will be able to enjoy magnificents views of Paris. We advise to visit the roof even if you don't eat to take some nice pictures. Here are the brands available at Paris Haussmann shops. In the same street you also find Le Printemps shop that have many brand for cheap. Watch a 2 min video of the inside and Dome here. How to go to Les Galeries Lafayette? Click here to open the location.
22. Perfume Museum Fragonard
This museum will teach the secret of the perfume trade, then show you an collection of precious objects and machinery retracing the history of perfume from the antiquity to modern days. The factory 1850 style will be an amazing experience and lesson with the wonderful guide, you also can buy from their shop after. And yes this is free of charge! You just need to book from our link under. And all that in one of the most pleasant area of Paris. How to go to the Perfume Museum of Paris? Click here to open the location. 3min video tour here.
23. Shoah Memorial WWII Holocaust
There is a free guided tour for groups if you book below Sunday at 3pm. But it is always fully booked. You can just go between 10am and 6pm any day except Saturday's. You will see the "Jewish files" and "the Wall of the Righteous" that help Jewish during the Holocaust. In the crypt the tomb of the unknown jew, inside remain the ashes of Jews exterminated in the Warsaw Ghetto. You will be able to walk near the Wall of Names of the 75 000 jew deported from France during WWII. How to go the Holocaust Memorial of Paris? Click here to find it. 4min video tour here.
24. Where to sleep in Paris
Where to sleep for cheap in Paris and lists of the best places are one of the top topic before you travel in Paris. Here is our lists to find a book the best hotels with 3 categories : Under 100$, most romantic, value for money. And if you book with our botton you help our website publishers to get funds for their work. 🙂
1 . List of accommodations under 100 dollars per night.
2. List of most romantic hotels for couples.
3. Best deals value for money hotels
25. How to book the cheapest flight to Paris?
We always advice travelers to compare with this website and choose flexible date ±3 (top right when deciding on dates) to have this nice screen above. It will show you the best windows to book your holidays and the flight. Click on the US or English flag to change to language on the top right.
26. Transport in Paris
In Paris you can take the taxi and Uber, but we advise the tube as it is more practical. See our guide for the tube below.
If you can afford it we have this guide for taxi and Uber too.
27. Rent a bike in Paris
The best solution if you want to use a bike is the Velib` system launched in 2009. You will have access to 20 000 self service bikes and electric bikes everywhere around you, with 1400 docking points. There is two options good for tourist, the 24h pass and the 3 day pass. The problem with the 24h pass is you pay 5€ but you only have 30min free for normal bikes and then pay 1€ per minute but 0 minutes free with pedelec! The 3 day pass at 20€ is by far the best option as you get 60 min free with normale bikes + 6 free trips of max 45 min with pedelec. Link below.
28. Rent an E-scooter in Paris
Only 3 operators were allowed to operate and only allowed for users above 18 years old. The most famous is Lime as this E-scooter rental App is available everywhere around the globe. You just have to download the app here an follow the steps to register as user. You p ay around 1€ the unlock the E-scooter and then around 20 cent per minute. Best option for random use as a tourist. Or else you pay 9.99€ for a day to get 30 minutes max rides for free, useless and difficult to respect. You also have the App dott very similar but 23 cent par minute. And then the cheaper Tier App for 15 cent per minute. Watch a video tutorial here.
29. Save on your car rental in Paris
Renting a car in Paris is not for everyone. We wrote a guide that will give you de pro and cons, regulations, parking tips, how to avoid scams, prices.
30. Where to eat in Paris? Best restaurants list with typical French food
To find a good restaurant what best than the Guide Michelin? You can set your budget on the right side "price" icon with the number of $. We advice to set the type of cuisine on "traditional cuisine" of you want typical french food.
31. When to go to Paris ?
We assed prices, weather and activities to decide what is the best time for you to go to visit Paris in our guide below.