Tickets zones 1 ,2 ,3 ,4 ,5 and limits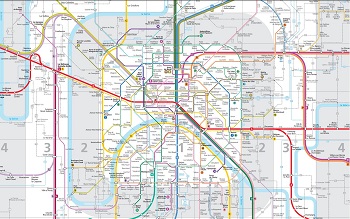 Before getting into the ticket types and prices comparison you need to know how the zones are split. Knowing the zones will help you decide what ticket to buy to visit Paris, go to the Airport or Disneyland Paris.
Inside Paris (What us French call Paris intra-muros) you only need a zone 1 ticket. Zone 2 is outside but the closer one to Paris, reaching around 2km around. Zone 3 goes around 10km outside Paris. Zone 4 goes around 15km from Paris limits and can take you to Versailles (see guide). Zone 5 can go far up to approx 30km from Paris Like Disneyland or Provins (guide Provins here). Click on the blue button the select your map.
What is the difference between "Metro" and "RER" in Paris ?
The "Metro" network was made for mainly Paris and does not go much far. Only few kilometres out of Paris are served by the Metro station network. You have more Métro train than RER and they are smaller. The network spread on 225 kilometres and started to be build for the world's fair in 1900. The average distance between each station is 570 meters only! This is why you are always close to one. It carries 1,5Bilion user every year.
The RER was build later to bring workers from outside Paris in the city. It is widely use by suburb citizens to commute to their workplace inside Paris. You have less train than metro but they are bigger. RER mean "réseau express régional" and was started in the 70's. You can spot them on our map as they are the ticker lines.
RER lines are well designed for families and disabled people. Pushchairs and wheelchairs will have to issues travelling thanks to the many lifts installed. However in the metro the infrastructure is poorly designed and clearly need attention as you will often have to use stairs!
Types and prices of tickets
lien: https://www.ratp.fr/titres-et-tarifs
What metro tickets to buy for what use?
– Ticket t+
At 1.90€ : The best seller ticket and considered by most of tourists as the cheapest way to travel in Paris. If you buy them ticket or e-ticket always take the "Carnet" of 10 tickets at 14.90€ and bringing the price down to 1.49€ per trip that's already 22% saved on transport budget during your trip. it is valid for all means of transports including buses, Metro, tram, Montmartre funicular, RER in zone 1 = inside Paris only. Also all regional (Ile de France) buses even outside Paris are allowed except the OrlyBus, RoissyBus and OrlyVal. Tickets are valid in metro for 120 minutes (without going out of the network) which is plenty enough to arrive anywhere in Paris. Also valid for 120min if passing from Métro to RER. By bus and tram ticket+ is valid for 90min. This ticket will soon be available electronically with a chip card "passe Navigo" to recharge. You can recharge this card and buy tickets through these apps but many people complains it does not work properly on Android. Same idea if your hotel is outside Paris, the price will raise with the zones but it is often better to buy by packet of 10.
– Navigo Day Ticket
This is called "Navigo jour". When you buy it you chose the number of zones to include. You can travel by Métro, RER, Train, Tramway, Bus, including OrlyBus and RoissyBus train but not to Orlyval. To save Ticket+ often wins again except if you make more than 5 trip a day. Not likely as in Paris you can easily walk between visits.
| Zones | Prices |
| --- | --- |
| 1-2, 2-3, 3-4, 4-5 | 7,50€ |
| 1-3, 2-4, 3-5 | 10,00€ |
| 1-4, 2-5 | 12,40€ |
| 1-5 | 17,80€ |
– Paris Visit Travel Pass
First we tough that it was a total rip off…but looking at the figures it might just be the best hassle free ticket to buy for Paris tourists.
If you visit Paris till zone 3 only (And it is enough) the price would be 38.35€ for 5 days with this pass. If you bought the 10 ticket package Ticket t+ would cost you minimum around 7.45€ per day if you do 5 trip a day so 37.25€. It is almost the same price plus every other travel is bonus and free, and you have till zone 3 instead of 1 only. You can go in and out of the Metro if you did a mistake without using a ticket for nothing or risking a fine.
We do not advice to buy the extension for zone 1 to 5 as 1 to 3 is enough as there is a 27.45€ difference. If you have to go to the Roissy Airport the price if the ticket is around 12.10€ with line B RER plus Orly bus and 10.30€ for Roissy Airport with line B RER direct. For Disney just 7.60€, Versailles 3.65€.
How much does the travel pass cost? Zone 1 to 3 are Paris and nearby. Zone 1 to 5 includes Versailles, Disneyland, Orly and Roissy Airports.
| Zones 1 to 3 | Adult | Child (under 12 years old) |
| --- | --- | --- |
| Days | Price | Price |
| 1 | 12,00€ | 6,00€ |
| 2 | 19,50€ | 9,75€ |
| 3 | 26,65€ | 13,30€ |
| 5 | 38,35€ | 19,15€ |
| Zones 1 to 5 | Adult | Child (under 12 years old) |
| --- | --- | --- |
| Days | Price | Price |
| 1 | 25,25€ | 12,60€ |
| 2 | 38,35€ | 19,15€ |
| 3 | 53,75€ | 26,85€ |
| 5 | 65,80€ | 32,90€ |
How to use the Paris Metro?
The subway in Paris will never be more than 10 minutes walk from you. That is why we don't recommend using the buses as they are more complicated to understand and ride. Paris have a wonderful underground metro network, very easy to find as it is signalled as "Metro", "M" or "Metropolitain" in yellow boards.
Credit Kotivalo_cc_4_0
You can buy tickets from every station as there is vending machines in English language. You can pay with credit cards, coin, notes.
When you look the subway map of Paris, you can see white spots and lines, those are connections between the Metro lines. Careful to take the right lane as there is two directions. You will know you direction by looking at the last stop of the line. This is how it is marked everywhere, the final stop you head towards. The name of every station is marked in big on the walls.
Inside the train you will know the next stop as the light will be flashing on the train wagon map, usually located above the doors. Don't forget that inside the older trains you will need to manually open your door by pulling upwards the metal knob before stepping out of the wagon.
Rush ours are around 8AM in the morning and late afternoon between 4PM and 7PM. At those peak hours wait for the people to leave the train before trying to get in. In the automatic stairs keep you right if you don't walk. As the left side is kind of for people in a hurry. The metro and RER operate from 5.30AM till 1.15AM. After this time you can still get the Noctilien buses (map here), those buses operate from 0.30AM to 5.30PM.
Always keep you ticket after it goes out of the turnstile machine when entering and leaving the station. or else you might get a fine (35€ on the spot or 70€ for later payment). You can trow your ticket when you are completely out of the Metro station.
From the 14 October 2021 the paper ticket system will be less and less available in station did disappear in March 2022. But you will still be able to buy the 10 pack tickets t+ electronically. The new price will be 14.90€ instead of 16.90€ with the Navigo Easy Card (cost 2€). The card can be recharged from your smartphone and you can even land it to a friend…
The Google Maps app is a really good way to find you way without needing anything else. Click here to read our guide to have the maps even offline with no 4G.